Special Event Venue in Magnolia, TX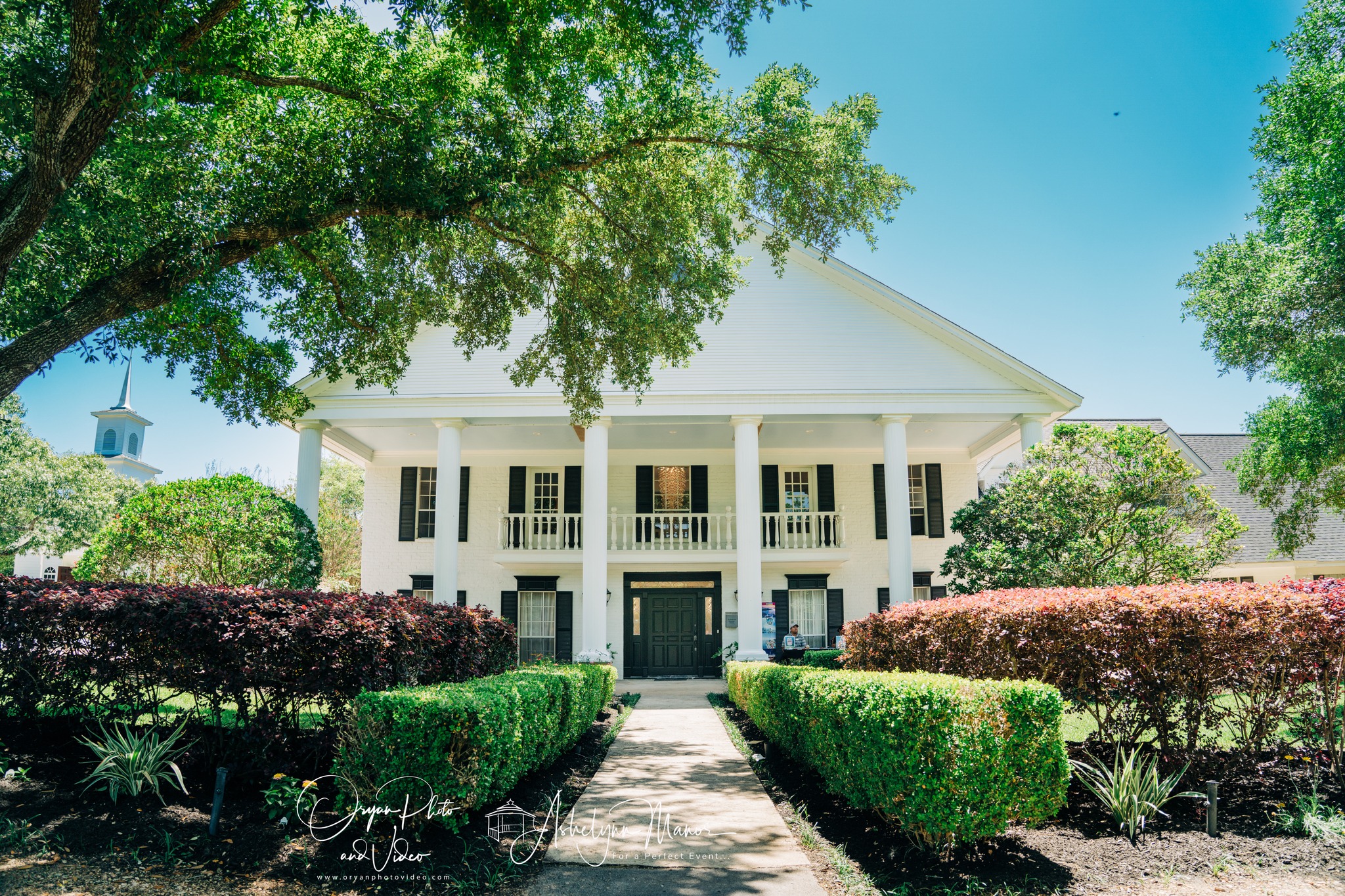 A Full-Service Weddings and Events Venue to help you with all the details you'll be faced with when planning an amazing event… a Coordinator, the DJ, tables and chairs, linens, centerpieces, the Bride's cake, our cake-cutting service, and so much more! Contact us today!
We offer: Venue-only and optional all-inclusive packages for all events – Weddings, Birthdays, Corporate, graduation, retirement and others.
We offer financing for your event through Texas Bay Credit Union. Please contact us for additional information.
Your Dream Event Location
Where we specialize in creating unforgettable moments for all your wedding events and bridal showers. Located in the beautiful city of Magnolia, Texas, we take pride in curating personalized and memorable experiences that will leave you and your guests in awe.
At Ashleynn Manor Events, we understand that your wedding day is one of the most important days of your life. It should be a day filled with love, joy, and cherished memories. That's why our dedicated team is committed to turning your vision into reality, ensuring that every detail of your
venue package
is executed with precision and care.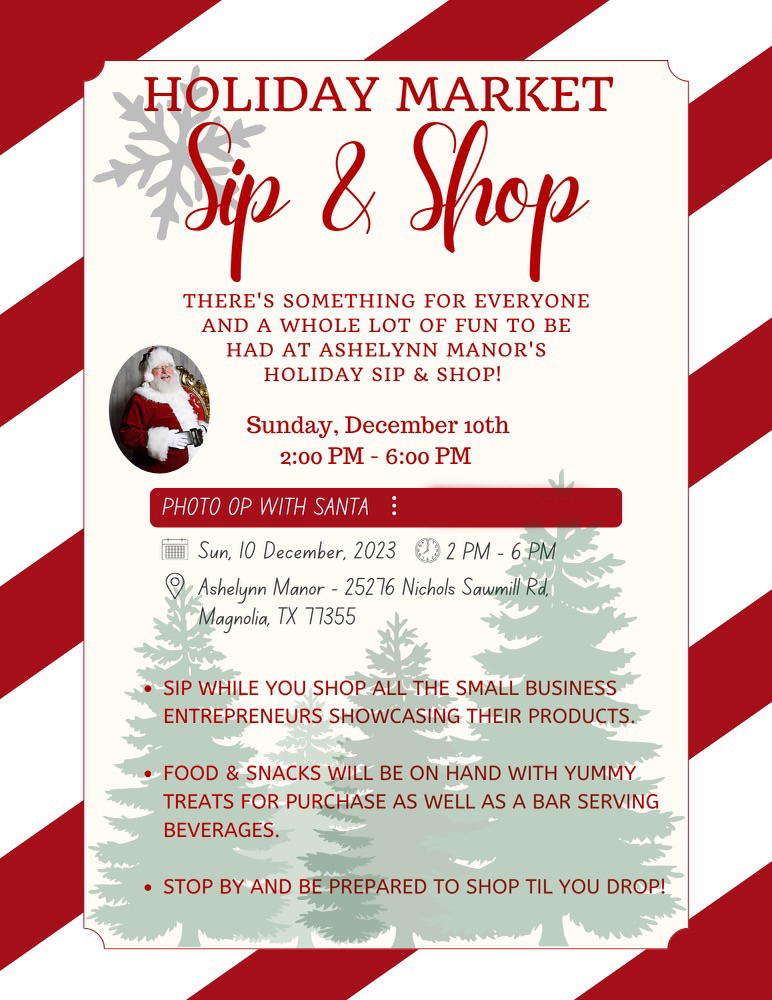 Join us for Holiday Market – Have a Sip, then Shop – and check out Ashelynn Manor.
Limited Space available. 
Date: December 10, 2023
Time: 2 PM – 6 PM
Location: Ashelynn Manor
The antebellum-styled mansion that we call "The Manor" serves as the centerpiece of our property. Accented in meticulously kept landscaping, The Manor features a large porch lined with tall white columns. The black shutters and second story balcony are two details that complete the timeless look for our wedding venue.
As you enter the front door, you are greeted by a gorgeous crystal chandelier wrapped with an elegant spiral staircase.
The chapel's peaked roof and elegant craftmanship provides a vintage hora to the building. At the heart of this chapel, a unique feature captures the attention of brides—a one-way glass viewing room discreetly positioned at the rear. This viewing room offers a glimpse into the chapel's interior while maintaining a barrier of privacy for those within. We offer livestreaming for the ceremony, as well as surround sound. The chapel presents a sense of timelessness with the wooden pews and high-rise ceiling. 
Once you say I Do, it is time to celebrate with your family and friends. The Carriage House is the perfect place to host your wedding reception, graduation, retirement or corporate parties. The Carriage House is an old barn that has been renovated to include ceramic wood floors, stained wooden walls, crystal chandeliers, stacked stone, real fire burning fireplace, and a Texas-sized stone wrapped granite bar.
It offers over 5,000 square feet of entertaining space and can comfortably accommodate up to 275 guests.
Our Garden Gazebo takes center stage behind the manor. Surrounded by lush greenery, this enchanting space is a testament to the beauty of open-air celebrations and the serenity of the outdoors.
Just for the Guys, Ashelynn Manor is the perfect wedding venue for the groom as much as it is for the bride. Our Groom's Cottage provides a comfortable and entertaining place for the guys to get dressed, relax, and have fun before the big day. 
The grooms cottage features two private rooms, a full kitchen, streaming services, and a pool table. 
Breathtaking Wedding Events
Your dream wedding deserves a dream location, and Ashleynn Manor Events offers a breathtaking, picture-perfect
private event space
for your special day. Nestled in the heart of nature, our sprawling estate boasts elegant architecture, stunning gardens, and a serene ambiance that will create the perfect backdrop for your celebration.
From intimate ceremonies to extravagant affairs, we have versatile spaces that can accommodate gatherings of all sizes. So whether you prefer an outdoor garden wedding or a stylish indoor reception, we have the ideal setting that will reflect your unique taste and style.
Our experienced event planners will also work closely with you throughout the entire planning process, making sure that every element of your wedding is tailored to your specific desires. From selecting the perfect color scheme to arranging floral decorations, we'll handle all the intricate details, allowing you to relax and fully enjoy your special day.
A bridal shower is an opportunity to shower the bride-to-be with love, support, and well wishes before her big day. And at Ashleynn Manor Events, we take pride in hosting exquisite bridal showers that are as unique and beautiful as the brides themselves.
Our team of experts will also guide you in creating the perfect ambiance for this joyous occasion. Whether you envision an elegant, tea party-inspired affair or a relaxed, outdoor garden gathering, we'll help you design a memorable event that perfectly complements the bride's personality and interests.
From delicious catering options to charming décor, we'll curate an immersive experience that allows you and your guests to celebrate this special time in the bride's life. Let us handle the logistics while you focus on creating lasting memories with your loved ones.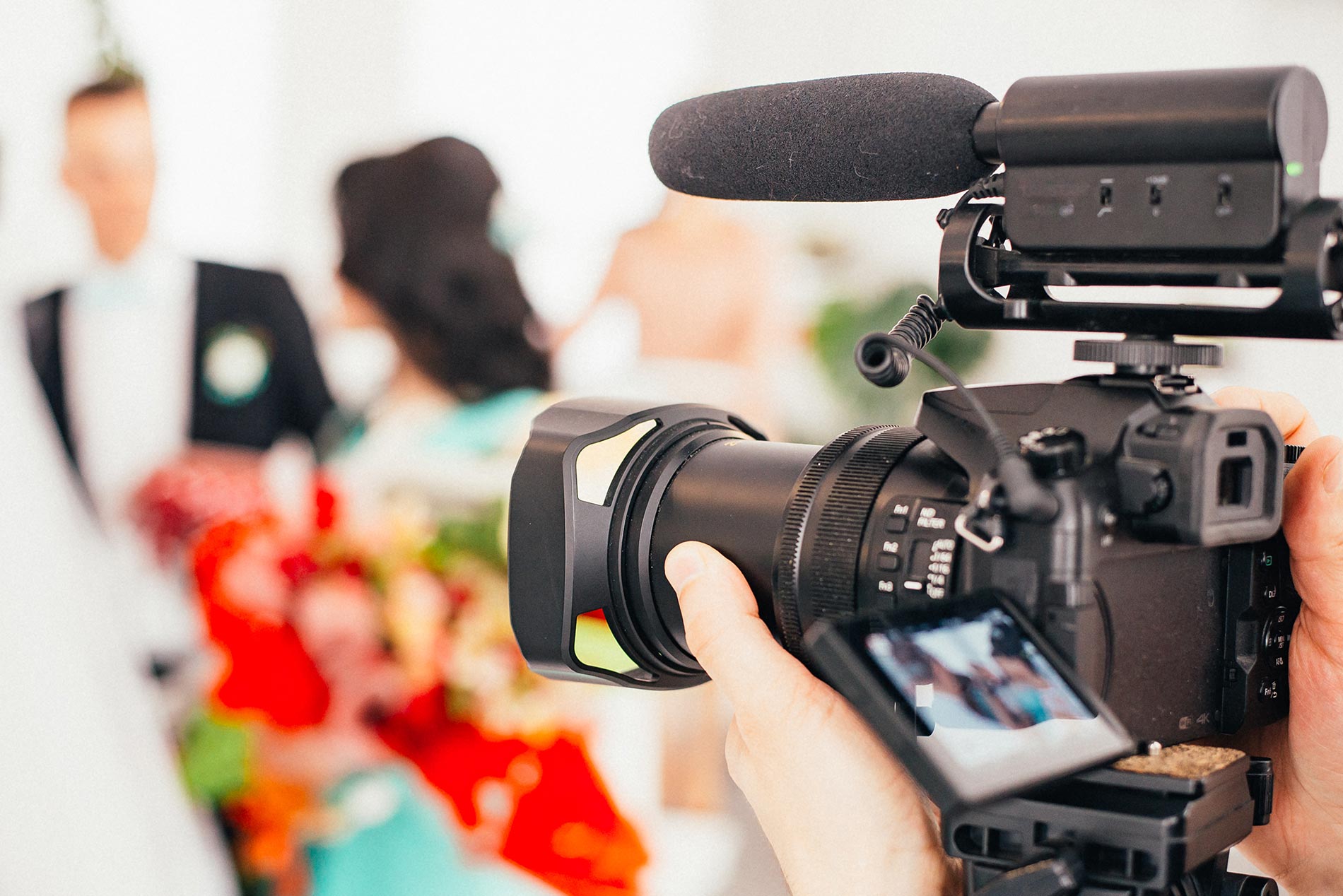 Why You Should Choose Ashleynn Manor Events
Unparalleled Beauty:

 

Our venue is a hidden gem, offering natural beauty and a sense of tranquility that is truly unparalleled. Your wedding event or bridal shower will be set against the backdrop of our stunning gardens and elegant architecture, providing a picturesque setting for your celebration.
Attention to Detail:

 

We believe that the smallest details can make the biggest impact. That's why our team of dedicated professionals will meticulously plan and execute every aspect of your event, ensuring that no detail is overlooked. From table settings to lighting arrangements, we'll create an ambiance that is both breathtaking and cohesive.
Personalized Service:

 

Your wedding event or bridal shower should be an expression of your unique love story. Which is why we'll take the time to understand your vision and offer personalized services that reflect your individuality. With our guidance and expertise, you can trust that your event will truly be one-of-a-kind.
Stress-Free Planning:

 

Planning a wedding event or bridal shower can be overwhelming, but with Ashleynn Manor Events, you can rest assured that every aspect of your event will be taken care of. Our experienced event planners will handle the logistics, allowing you to relax and fully enjoy your special day.
Endless Possibilities:

 

At Ashleynn Manor Events, we believe that no dream is too big. From themed weddings to extravagant bridal showers, we're committed to turning your vision into reality. With our diverse range of spaces and flexible packages, the possibilities are truly endless.
So contact us today to schedule a consultation and
get a quote
, and let us help you create a wedding event or bridal shower that will leave a lasting impression. At Ashleynn Manor Events, we're dedicated to turning your dreams into cherished memories that will be treasured for a lifetime!